2019-01-18 17:11:59
The Belt and Road Film Tour Arrived at Greek TIFF to Hold Shanghai Industry Promotion Event
As the co-signer of the Belt and Road Film Festival Alliance, the on-going 59th Greece Thessaloniki International Film Festival (TIFF), on November 6, held the Belt and Road Film Tour of Shanghai International Film Festival (SIFF). The event showcased the services of SIFF and Shanghai's service for domestic and overseas filming through film industry promotion, attracting the attention of European film industry professionals.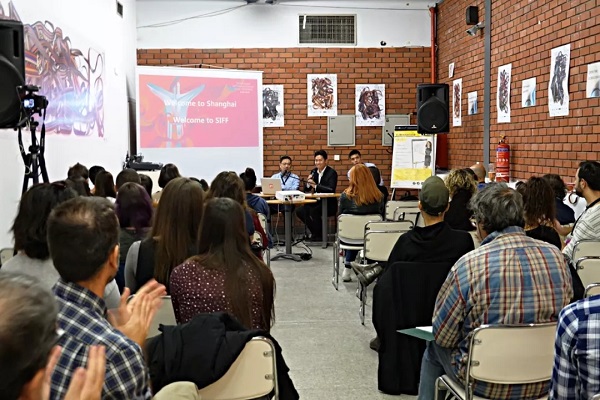 The industry promotion event attracted an array of European film makers
Founded in 1960, TIFF enjoys a wide global reputation. Since the 1990s, Chinese film works have repeatedly won Golden Alexander for Best Feature-Length Film at this festival. The AGORA film market, held in a creative marina building at the local port, is the most active section of TIFF. And the Belt and Road Film Tour industry promotion event organized here by SIFF representatives has gathered producers, film institutions and film company representatives from Europe, America and other places, as well as teachers and students majoring in television.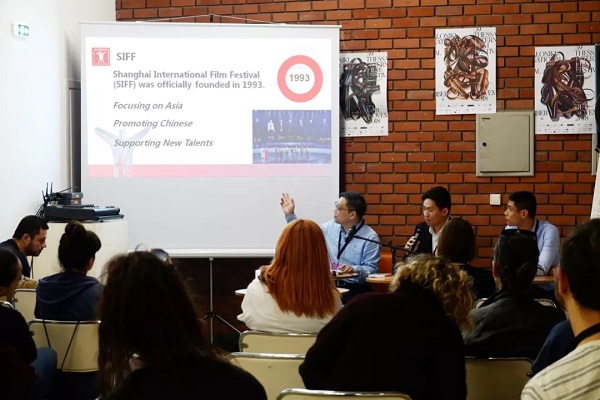 SIFF Representatives were introducing Shanghai International Film Festival
SIFF representatives showcased the main activities and development status of Shanghai International Film Festival, especially international film panorama and the co-produced film market with videos and data. Each year, a variety of theme units in the international film panorama will attract the activate participation of global filmmakers. This year, the 21st SIFF has witnessed the registration of 3,447 films from 108 countries and regions. The co-produced film market of SIFF is rich in content. Activities such as master classes, film project roadshows, producers' meetings, etc., all provide platforms for exchanges and cooperation between film institutions and filmmakers in various countries. And a large number of projects established each year, together, have promoted the development of Chinese and foreign film industry.
In recent years, Shanghai has been providing services for various domestic and overseas film and television production bodies, and contributed to the shooting and post-production of a large number of co-productions and foreign films. The introduction of these services, including free policies and consulting services, and 116 coordinating services such as shooting location, filming equipment, post-production, special shooting, etc., by SIFF representatives was received and welcomed by local guests.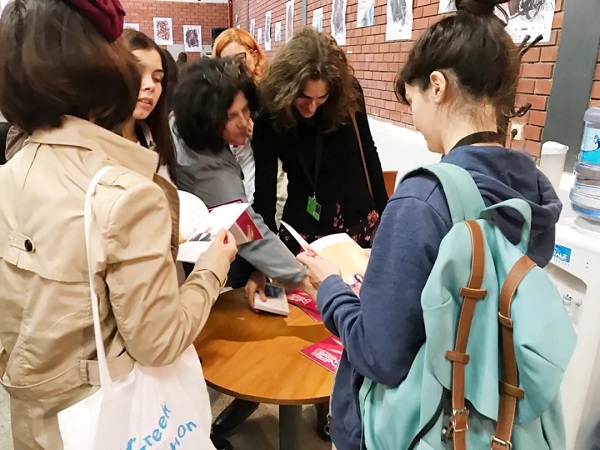 The Guests receiving the brochures of SIFF 2019
After the promotion meeting, some of the guests wanted to know more. They asked in detail about the Chinese and foreign co-production market and the film and television production services of Shanghai around SIFF representatives, and extended their willingness to participate upon SIFF representatives' invitations.
The guests communicating with SIFF representatives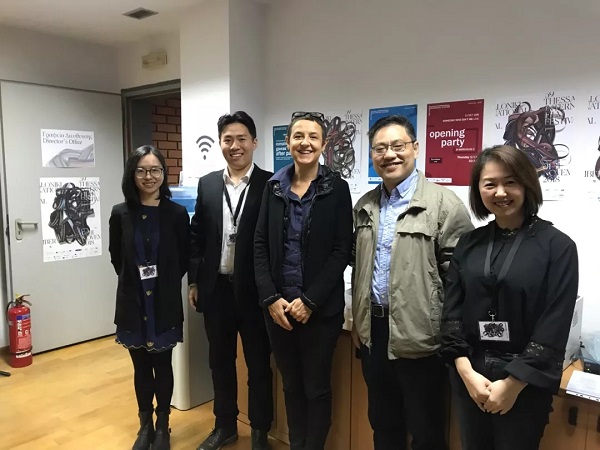 Group picture of TIFF's General Director Elise Jalladeau (Middle) and SIFF representatives
TIFF's General Director Elise Jalladeau is gratified by the enthusiastic response from professionals from various countries to the SIFF Belt and Road Film Tour. She expressed her high appreciation for this program and believed that its arrival at European Film Festivals would enabled the local film industry to continuously improve their understanding and attention to the Chinese film industry, and also, recognize China's driving efforts for the world film industry through providing excellent services. She is looking forward to recommending more Greek films for the Shanghai International Film Festival next year and making a positive contribution to the exchange and cooperation of the Belt and Road films.
During the TIFF this year, SIFF representatives also held in-depth and friendly cooperation meetings with professional institutions such as the Greek Film Center, the Greek National Centre of Audiovisual Media and Communication, and local renowned film directors.
Founded in 1960, the TIFF is held for the 59th times this year and has become one of the most important film festivals in the Balkan region, mining excellent new works and emerging talents for European and even the world's film industry every year. The AGORA film market is one of the main activities of TIFF and a stage for film projects from various countries, whose main venue was transformed from a port pier. The rich market activities and film panorama were held in the original pier buildings, boasting a unique industrial-style architectural design.