2019-06-11 16:59:13
2019 The Belt and Road Film Week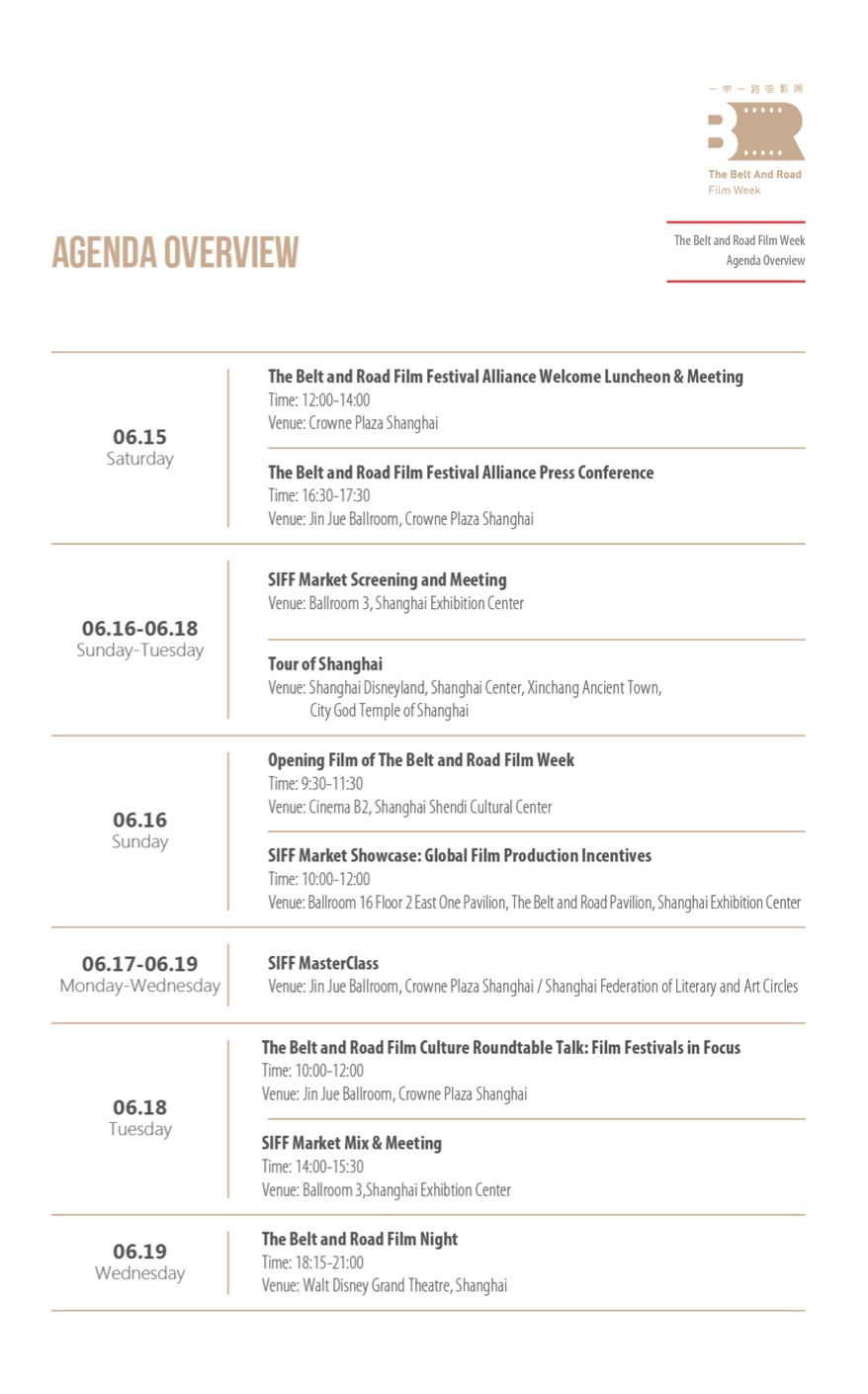 Overview: The Belt and Road Film Week
Since "The Silk Road Panorama" was launched in 2015, Shanghai International Film Festival (SIFF) has been responding to the Belt and Road initiatives highly positively. Upgrading every year, SIFF has always been supporting communication among filmmakers from the Belt and Road countries. Last year, SIFF launched The Belt and Road Film Week, and "The Belt and Road Film Festival Alliance" with 31 members from 29 countries. This year, the alliance welcomes 7 new members. The Belt and Road Film Week comes to its 2nd edition.
The Belt and Road Film Week contains the following events: Film Screenings and Post-Screening Talks, The Belt and Road Film Festival Alliance Press Conference, SIFF Market Screening and Meeting, The Belt and Road Film Week Opening Film, SIFF Market Showcase: Global Film Production Incentives, Film Culture Roundtable Talk, The Belt and Road Film Night, etc.
SIFF Market Screening and Meeting is a branding new section this year. In the program, there will be 7 films from all over the world screened for Chinese film buyers. In the event — SIFF Market Buyers Mix & Meeting, film buyers from China and abroad will come together with film producers and filmmakers discussing topics on buying film rights.
The Film Week will show 24 films from 24 different countries. The main theme of the film program is — The Light and Life — no matter where you are, with what cultural, social, religious backgrounds, the light in people's heart, the light of people's life is the universal value for us to seek. From these films, the program will launch 8 nominated films based on the opinions of professional film selectors. The three awards, including the Audience Choice Award, the Media Choice Awards (for film & filmmaker), will be launched depending on the votes from the audiences and media juries, in order to motivate their participation.
The Belt and Road Film Week welcomes with an open attitude more countries and film institutions to join The Belt and Road Film Festival Alliance. We also sincerely welcome films, filmmakers, press and audiences from all over the world to the 22nd Shanghai International Film Festival. Through the medium of film, we shall work together to promote the development of film markets in different countries and areas and depict a promising blueprint of harmonious communication and cooperation through different civilizations.
SIFF MARKET SCREENING & MEETING
Time: June 16 – June 18, 2019
Location: Ballroom 3, SIFF Market, Shanghai Exhibition Center
The 22nd Shanghai International Film Festival launches the new program Market Screening & Meeting, showcasing seven international films at SIFF Market and connecting film buyers from China and aboard.
Market Screening Film Slate
1. Title: Call for Dreams
Israel / Japan | 81 min | Fantasy | Director: Ran Slavin
* 6 / 16 / 2019 10:00 AM
In a rain drenched Tokyo, the lives of a curious Japanese lady and an Israeli police detective intertwine through dreams. After fainting in a pachinko parlor, Eko complicates her life by publishing a \'Call for Dreams\' ad in a Tokyo newspaper. With her scooter she starts to visit strangers who leave enigmatic descriptions of their dreams on her analog answering machine and for a fee acts them out in return. But as the dreams start to seep into reality and a related police investigation of a murder in Tel Aviv unfolds, reality and fantasy intermittently intertwine.
2. Title: Between Two Seas
Egypt | 86 min | Drama / Family | Director: Anasa Tolba
* 6 /16 / 2019 12:00 PM
While on a short visit to her home village, a small rural island in near Cairo, Zahra's daughter is exposed to a tragic accident. Following this incident, Zahra persists on getting her daughter's right and insists on not only continuing her education but also benefiting her community. The film sheds light on dierent societal issues faced by women, especially in rural areas.
3. Title: The Sun Above Me Never Sets
Russia | 108 min | Comedy | Director: Luibov Borisova
* 6 / 16 / 2019, 2:00 PM
Having quarreled with his father, Altan comes to work in the High North. He will have to spend a whole month alone on a deserted island. But soon Altan finds out he has a neighbor – an old man called Baibal. He came here to live out his last days and asks Altan to bury him near his wife's grave. The boy learns that the old man's daughter went missing long ago. He talks Baibal into launching an entertainment blog to find his daughter, and at the same time, to postpone the man's plan to die. Every day, Altan does his best to make Baibal look forward to living another beautiful day...
4. Title: Bille
Latvia / Lithuania / Czech Republic | 104 min | Drama / History | Director: Inara Kolmane
* 6 / 17 / 2019, 12:30 PM
An extraordinary and creative little girl attempts to comprehend the confusing adult world in Europe right before WWII and prove her own value despite the lack of appreciation and love from her mother. Confronted by her mother's contempt for her, Bille tries to find an escape in her vivid imagination and look for the Dreamland. Growing up in the late 1930s poor working class family, she has many struggles ahead of her but eventually she finds the right way and proves that dreams may come true. BILLE is a women-led screen adaptation of the bestselling autobiographical novel BILLE by the famous Latvian author Vizma Belševica, a winner of Tomas Tranströmer Award and candidate for the Nobel Prize in Literature. Filmed in the actual apartment the author spent her childhood in, the viewer is teleported back to 1930s and learns about her life in the most authentic way possible.
5. Title:My Foolish Heart
Poland | 83 min | Music / Biography | Director:Rolf van Eijk
* 6 / 17 / 2019, 2:30 PM
Amsterdam,1988. Detective Lucas is charged to investigate the mysterious death of music legend Chet Baker. While penetrating the mind of the infamous trumpetist, Lucas needs to face his own demons and shadows.
6. Title:Shindisi
Georgia | 105 min | War | Director:Dito Tsintsadze
* 6 / 18 / 2019, 10:00 AM
This film is based on the real story of the Russian-Georgian War in 2008. The village of Shindisi is occupied by the Russian forces. Most of the residents have fled except for local villagers Badri and Vazha; Badri has a terminally ill wife, Vazha is taking care of a 12-year-old daughter who lost her mother. After the agreement on a ceasefire, Georgian army is leaving the conflict zone with a guarantee of safe passage, but Russian military violates the peace agreement and ambushes the Georgian army near the village "Shindisi." At the cost of their own lives, those who have remained try to hide the Georgian soldiers wounded in an unequal struggle.
7. Title: Werewolf
Poland / Netherland / Germany | 88 min | Thriller | Director: Adrian Panek
* 6 / 18 / 2019, 12:00 PM
Summer, 1945. Eight children from Gross Rosen concentration camp find a provisional hiding place in an abandoned orphanage nearby, lost among forests. It seems that after the horrors of the war feral children may come back to normal life. All of a sudden idyllic atmosphere of peace and quietness is interrupted. The nightmare returns. In the surrounding forests wolfhounds are circling. The dogs were released by SS officers before the liberation of Gross Rosen camp. Wolfhounds - taught and used to kill prisoners - surrounded young heroes in the orphanage. All the attempts of escaping the place are failing. Children without any food and water turn into madness and wilderness once again. But the real danger lurks inside the palace.
SIFF MARKET BUYERS MIX & MEETING
* 6 / 18 / 2019, 2:00 PM - 3:30 PM
Intro
SIFF Market Buyers Mix & Meeting invites film buyers, producers, and film directors to meet and share their thoughts on film acquisition & promotion, film market, and potential opportunities.
Form
Panel in a relaxing atmosphere + free talk
Participants
International sales agents, Chinese film buyers & distributors, producers and filmmakers from both China and abroad
Topics
· What makes you buy a film? What factors may contribute to a buyer's decision?
· How to bring a film into Chinese market? How to promote a Chinese film overseas?
· Difficulties may encounter in importing foreign films to China.
· Questions & solutions: puzzlements of Chinese buyers when selecting and importing Chinese films; misconception and obstructions of film promotion overseas.
· What/how are the peers doing now?
The Belt and Road Film Night
The Belt and Road Film Night is the awarding ceremony for The Belt and Road Film Week.
Here, we invite renowned filmmakers from both China and across the world to meet and share their understandings of cinema.
Here, after synthesizing professional opinions from film journalists and critics, we present the three awards to honor excellent films and filmmakers from The Belt and Road Film Week.
It is a grand gathering, a gathering of friendships, a gathering of films and filmmakers.
Agenda: Red Carpet, Guest Presentation, Special Performance, Award Presenting.
Guests: Representatives from The Belt and Road Film Festival Alliance members, Representatives of The Belt and Road Film Week film crews, Well-known filmmakers from domestic and abroad, film lovers…
Date: 18:15-21:00, June 19, 2019
Venue: Walt Disney Grand Theater, Shanghai
Last year our guests: Wu Jing, Xu Zheng, Yan Geling, Chen Sicheng, Celina Jade, Tian Hua, Wang Likun, Manfred Wong
The Belt and Road Film Week Screening